For many businesses, security runs deeper than simply ensuring that hackers stay out of your network and that your data is secured. While that is all of vital importance, regulations specific to your industry likely mean that you are required to take additional, often complex steps to ensure the full legal compliance of your business's IT infrastructure.
These requirements can be overwhelming, and an unwelcome distraction from the many and varied tasks you already have to contend with each day in order to grow and develop your organization. Yet the consequences of not staying on top of regulatory requirements can be immense - both in terms of financial penalties and even jail time, as well as potentially irreparable reputational damage.
Industry-specific expertise tailored to suit your needs
The payment card, legal, medical and financial industries are among those with the most complex compliance requirements, derived from a number of different pieces of legislation - including, most recognisably, the Health Insurance Portability and Accountability Act (HIPAA) that most impacts the medical profession. The obligations placed on business owners in these industry verticals can be something of a minefield - but CommTech's expertise can reduce the headaches you'll suffer while trying to stay on the right side of the law.
With our team of specialists on your side, you'll have the support you need to cost-effectively ensure that your company meets and even exceeds industry guidelines. From security compliance audits and routine vulnerability scans to more specific advice depending on your company's own particular circumstances, we'll give you the peace of mind that comes from knowing your regulatory obligations are taken care of, and that you can get back to doing the job you enjoy - serving your clients or patients, and growing your business or medical organization.
Don't go another day without adequate provision for network security and regulatory compliance requirements - CommTech can help keep your business safe.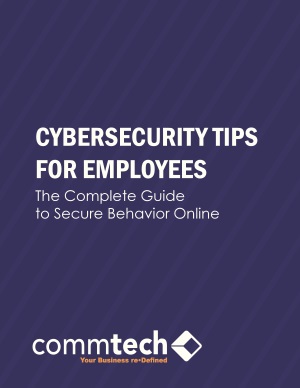 In this eBook, we explore the need for employees to practice strict and secure cybersecurity habits—not only to thwart digital attacks, but also to prevent someone from simply walking by their desk (in the office or at home) and picking up a device or document that contains sensitive information. We also present the key steps SMB business owners can take to educate their employees to help secure their company's data and intellectual property. Download our free eBook for all the tips and tricks on how to stay secure.